Summer Institute Testimonials
PROMOTING EQUITABLE EDUCATION
We are pleased to announce that in Summer 2023 SUNY Old Westbury's School of Education will launch its
Summer Institute for Teachers with a Learning Conference.
When:  July 24-27, 2023 (Monday through Thursday) 8:00 a.m. to 4:00p.m.
Where:  SUNY Old Westbury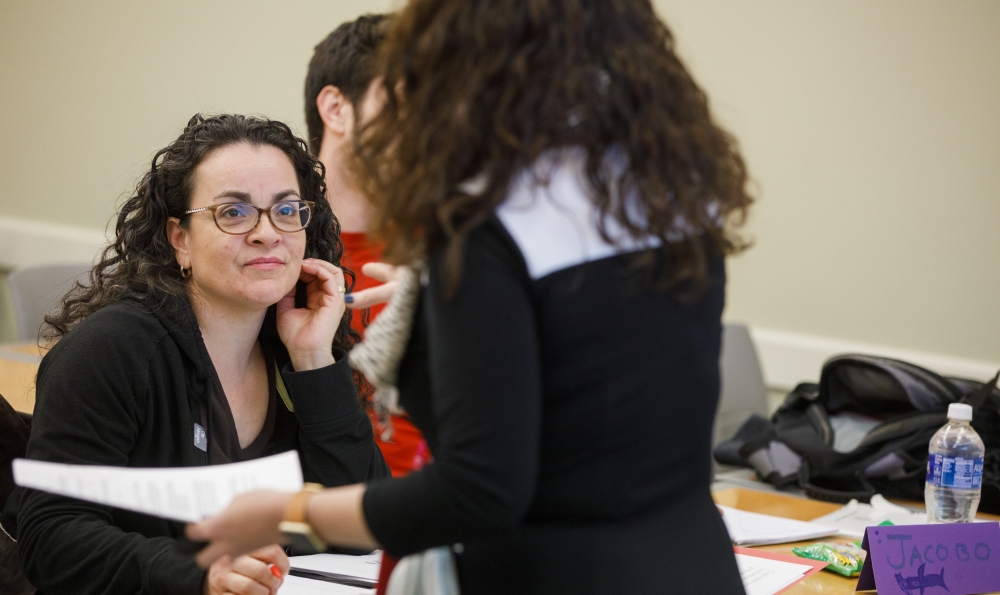 Our conference is designed for educators
Faculty of institutions of higher education, District education leaders, Principals, P-12 Teachers, Teaching Assistants, Program directors, Curriculum specialists, Pre/In-service teachers, and all those who are strategic and thoughtful in promoting students' success and leading transformational change at their institutions.
SOME PRESENTATION TOPICS INCLUDE:
* Creating equitable classrooms, schools, and districts    *  Literacy    *  Bi-lingual Education  
*  Supporting Students with Exceptionalities   *  Culturally Responsive Sustaining Education    
*  Appropriate Technology Use in Teaching & Learning   *  Developing Inclusive Classrooms
*  Engaging Students   *  Equity in STEAM  *  Equity in Math Teaching and Learning
*  Social Emotional Learning  *  Assessment & Data Collection  *  Differentiated Instruction
Gain knowledge and insights from national and local experts!
(10-15 attendees per presentation)
Join us in learning and networking with experts in these topics and end the summer ready to enhance your instruction in the upcoming school year!
Vendors and P-12 Recruiters will be on site.
Program
Access a copy of conference program
Day 1 - Mon July 24: Promoting Equity in Education

Time
Event
Location

8:00 am - 8:50 am

Conference Registration & Continental Breakfast

Campus Center Atrium

9:00 am - 10:30 am

SESSION I

 ". . . With Literacy, Liberty, & Justice for All:" Making Culturally Relevant Education Real in the Classroom"- Dr. Jevon Hunter 

During this workshop, attendees will learn how an inquiry model of learning and instruction can be used to implement Culturally Relevant Education in the classroom.

"Supporting students with exceptionalities"- Christopher Garofalo, MA, BCBA, LBA

This presentation will focus on supporting students with exceptionalities in the classroom specific to academic and nonacademic success. By understanding the relationship between the teacher and student's behaviors, we are able to teach students and positively influence behavior change.

"Understanding the Changes in Reading Instruction to Help Children Learn t0 Read in Classroom Contexts"- Dr. Livia Gama Fagundes

This workshop will address the recent shifts in literacy education, specifically the move to Science of Reading. An overview of Balanced Literacy and Science of Reading will be covered. In addition, practical culturally relevant pedagogical practices to address these shifts in literacy instruction to support students at the elementary level will also be explored. 

"Appropriate Technology Use in Teaching & Learning"- Dr. Aliya Holmes

Emerging Technology Tools, Tactics, and Trends in K-12 Education- As educators strive to continuously enhance the student learning experience, many recognized the opportunities leveraged with technology, the impact on student engagement, and potential for student success when used appropriately. For some teachers, determining an appropriate use of technology is challenging. This workshop will examine perspectives on appropriate uses of technology tools, strategies for using technology, and emerging trends in PK-12 education.  

"Differentiated Instruction"- Dr. Colleen Keating

This presentation will focus on the principles of the Universal Design of Learning (UDL) to meet the needs of diverse learners with differentiated instruction. We will review an individualized education plan (IEP) and review accommodations to address instruction to meet the individual needs of all students in our classroom. We will examine how to pre-assess students' prior knowledge, and how to differentiate for content, product, and product.

New Academic Building (NAB)

Room 2101

 

 

 

Room 2105

 

 

 

Room 2107

 

 

 

 

Room 2111

 

 

 

 

Room 2119

 

10:40 am - 12:10 pm

SESSION II

"Creating equitable classrooms, schools and districts"- Dr. Maureen Gillette

This presentation will provide a comprehensive examination of factors that impact equitable classrooms, schools and districts.  Participants will be provided with a template and resources for developing an action plan to address equity in their own educational environment. 

"How do you Show up in your Equity?"- Dr. Shawn Rux

This workshop will provide educators with a reflective and realistic understanding of equity, the impact of implicit bias, and strategies for creating culturally responsive and equitable educational spaces.  Participants will leave with actionable steps to improve their educational practices, while promoting equity and inclusion for all.  

Bilingual Education - "What ELLs/MLLs Need But Often Don't Get: An Historical Look at Advocacy and Data"- Priscilla Zárate and Richard Bellis

The presenters will discuss several key topics related to ELLs, such as their placement into bilingual education and special education services.   Presenters will explore ways that allow educators to examine their own district and school data, identify potential red flags and concerns, and take specific action and advocacy steps to ensure that ELLs receive a rigorous education that is age-, grade-, and language-appropriate.

"Technology: Accessibility"- Dr. Mason Mason (Apple Education) ​​​​​

Technology plays a powerful role in allowing students to personalize and take ownership of their learning,  fostering dignity and independence. Apple builds products that are accessible to all learners, giving everyone access to technology that unlocks their full potential. Learn about the best accessibility features across Mac and iPad, features that bring out the best in all of us.

"Social Emotional Learning (SEL)"- Nicole Leibowitz & Alyssa Marino

This workshop will provide educators with practical strategies to help students develop the social emotional skills needed to be successful in the classroom and beyond. By incorporating SEL strategies, students will develop confidence in themselves, enhance their decision making and problem-solving skills and develop stronger social skills. Educators will walk away with creative ideas they can implement in their classrooms and overall work with their students.

New Academic Building (NAB)

Room 2103

 

 

 

Room 2109

 

 

 

Room 2117

 

 

 

 

 

Room 2101

 

 

 

Room 2105

12:10 pm - 1:00 pm

LUNCH

Campus Center Atrium

1:10 pm - 2:40 pm

SESSION III: Creating Action Plans

Participants will engage in small group discussions to recap sessions I & II and draft action plans to enhance their instruction for the new academic year. This session is also designed to create opportunities to develop partnerships, engage with the presenters, and learn about what others are doing to enhance student learning and transform their institutions!

Campus Center Atrium

2:50 pm - 3:50 pm

Closing Reception (Refreshments)

Come Relax and Mingle!

Campus Center Atrium
Day 2 - Tues July 25: Promoting Equitable Education in STEAM

Time
Event
Location

8:00 am - 8:50 am

Conference Registration & Continental Breakfast

New Academic Building (NAB)

9:00 am - 10:30 am

SESSION I

"Equity as a Value-Added Dimension in Mathematics Teaching and Learning" - Dr. Blidi Stemn

This session will focus on the use of ethnomathematics as a lens for addressing equity issues in mathematics teaching and learning. 

 "Boosting STEM success for underrepresented groups" -  Dr. Gina Semprebon

The STEM Labor Market desperately needs underrepresented groups simply because there is no true innovation without diversity and the creativity and expanded perspectives that come with it. We need this innovation desperately to solve the daunting global challenges we are facing today.  The good news is that there is a great deal we can do to better attract and retain marginalized groups in STEM, and it is not hard.  You do not have to "reinvent the wheel," as excellent national recommendations for building life science literacy are readily available, as well as a growing body of literature on how students best learn. In this talk, you will learn the 4 main steps for better teaching, attracting and retaining students in STEM, especially females and other underrepresented groups.

"Everyone Can Code"- Dr. Mason Mason (Apple Education)

Teaching and learning to code provides essential skills such as creativity, collaboration, and problem solving while also preparing students for future careers. Explore Apple's Everyone Can Code curriculum and how you can learn how to introduce students to coding and app design with the fun Swift Playgrounds app on iPad and Mac. 

New Academic Building (NAB)

Room 2117

 

 

Room 2109

 

 

 

 

Room 2107

 

10:40 am - 12:10pm

SESSION II

"A TIME to CURE the failed 'STEM pipeline' model"- Dr. Fernando Nieto

During this workshop I will share my experience integrating my own research as a CURE/CRE in secondary and undergraduate education. I will also talk about how we use the TIME model to implement and assess the experience."

"Creating Inclusive learning environments" - Dr. Michelle Withers

Join me for an interactive workshop on strategies to promote inclusion, sense of belonging and community in your classroom.  Research shows that when students feel a sense of belonging in their classes or trust in their teacher they perform better. As part of this workshop, you will engage in practices to promote connection, respectful discourse and reflection on the role of invisible factors like instructor and student identity on student sense of belonging and performance. "

"Learning Science through inquiry within a Social Justice Context" - Dr. Fernando Espinoza

A contextual approach to science instruction based on the use of the Five E's instructional model for curriculum development.The Five E's is an inquiry-based model derived from The Learning Cycle (A strategy based on an inquiry approach to learning and instruction). Social Justice is effectively incorporated into all tasks since they are based on the following goals: (I)To Make Science Accessible (II)To Make Thinking Visible (III)To Help Students Learn from Each Other, and (IV) To Promote Lifelong Learning.

"Art as a Tool for Empathic Teaching" - Cris Scorza and Dyeemah Simmons (Whitney Museum of American Art)

Attendees will engage in a 90-minute session to understand how they can use works of art to foster empathy and authentic connections with their students. Looking at three artworks in a current Whitney Museum exhibition, faculty in any subject area will learn observation and dialogue-base inquiry to connect with the student's context and their understanding of current events and the impact in their lives. Using art analysis experiences to teach content outside the arts, such as sociology, mathematics, and even nursing, has proven to be an excellent tool to broaden students' perspectives, critical thinking skills, and sense of belonging.

New Academic Building (NAB)

Room 2111

 

 

 

Room 2105

 

 

 

Room 2103

 

 

 

Room 2119

12:10 pm - 1:00 pm

LUNCH

New Academic Building (NAB)

1:10 pm - 2:40 pm

SESSION III: Creating Action Plans

Participants will engage in small group discussions to recap sessions I & II and draft action plans to enhance their instruction for the new academic year. This session is also designed to create opportunities to develop partnerships, engage with the presenters, and learn about what others are doing to enhance student learning and transform their institutions!

New Academic Building (NAB)

 

2:50 pm - 3:50 pm

Closing Reception (Refreshments)

Come Relax and Mingle!

New Academic Building (NAB)
Day 3 - Wed July 26: Assessment & Data Collection

Time
Event
Location
8:00 am - 8:50 am

Conference Registration & Continental Breakfast

Campus Center Atrium

9:00 am - 10:30 am

SESSION I

"Data Collection and Assessment in K-12 and College Classrooms" - Dr. Nicole Sieben

This interactive session will provide a variety of multimodal approaches to data collection and assessment in K-12 and college classrooms with particular emphasis on building authentic formative and summative assessments. The workshop will provide educators with a variety of ways to plan informal and formal assessment during lesson plan and unit plan delivery in order to best meet the needs of all students in the class. Assessment methods will include ways of measuring student learning in the context of individual, group, and whole class instruction. Attendees in this session will be invited to workshop their ideas alongside colleagues and share "best practices" from their own experiences as well. Assessment methods will include research-based, classroom-tested strategies that can be used during face-to-face and online instruction.

"Using assessment to improve student learning outcomes"- Dr. Shanthi Konkoth

This workshop session will address: What is Assessment? Direct & Indirect Assessment. Formative & Summative Assessment, Rubric Basics, Qualitative & Quantitative,  Bloom's Taxonomy, and  Assessment & Accreditation.

"iPad and Student Assessment"- Apple Education

With the power of Apple technology, traditional classrooms can inspire creativity and encourage collaboration. In addition, Apple technology can be used to assess student proficiency. Learn how Apple can work with schools to support daily learning and various classifications of formative assessments. 

New Academic Building (NAB)

Room 2103

 

 

 

Room 2109

 

 

 

Room 2107

 

 

10:40 am - 12:10pm

SESSION II

"Grant writing "- Dr.Cristina Notaro

This interactive workshop will provide an overview of the grant process, from finding grantors to designing a competitive proposal. Participants will become familiar with grant writing techniques and strategies, and common funding sources.

"Effective online teaching strategies"- Dr. Josefa Pace

This interactive workshop will display how in-person courses can be adapted for teaching online. When approaching the implementation of digital formats, this workshop will provide traditional and foundational methods of scaffolding that offer a gradual transition into multimodal connectivity. The workshop will discuss how online courses can be designed using process-based approaches to include group work and peer discussions through an online medium. This on-going flexibility brings agency, individuality, and collectivity to the learning process.

New Academic Building (NAB)

Room 2101

 

 

Room 2111

 

12:10 pm - 1:00 pm

LUNCH

Campus Center Atrium
1:10 pm - 2:40 pm

SESSION III: Creating Action Plans

Participants will engage in small group discussions to recap sessions I & II and draft action plans to enhance their instruction for the new academic year. This session is also designed to create opportunities to develop partnerships, engage with the presenters, and learn about what others are doing to enhance student learning and transform their institutions!

Campus Center Atrium

 

2:50 pm - 3:50 pm

Closing Reception (Refreshments)

Come Relax and Mingle!

Campus Center Atrium
Day 4 - Thur July 27: Culturally Responsive Pedagogy

Time
Event
Location
8:00 am - 8:50 am

Conference Registration & Continental Breakfast

Campus Center Atrium

9:00 am - 10:30 am

SESSION I

KEYNOTE ADDRESS: Dr. Jevon Hunter

"Designing Learning Environments with Equity in Mind: Culturally Relevant Education as an Act of Educational Dignity and Justice "​​​​​​.​

How do we create learning environment with equity in mind?
What place does educational dignity and justice have in the classroom?
What role does Culturally Relevant Education have in making equity, dignity, and justice real? 

These questions will be addressed as attendees embark upon a professional learning journey exploring how classroom teachers enflesh Culturally Relevant Education in the classroom by centering the living/lived experiences of youth in the curriculum. Students learning outcomes will be highlighted, teacher exemplars will be discussed, and attendees' imaginations will be engaged.

Multipurpose Rooms (MPR), Student Union
10:40 am - 12:10 pm

SESSION II

Guest of Honor : Chancellor, NYS Board of Regents, Lester W. Young, Jr.

"Rethinking Education "​​​​

Multipurpose Rooms (MPR), Student Union

 

12:20 pm - 2:00 pm

 WORKING LUNCH -  SESSION III

Taking Action on Racial Equity and Justice

The Taking Action on Racial Equity and Justice Learning Challenge Series is designed to help leaders, educators, parents, community members, and students take action on issues of racial equity and justice. Join us to explore the Learning Challenge Series, the Challenged Base Learning framework, and resources to support your work. 

Vendors  on site - Free Give Aways...

Federal Reserve Bank of New York Economic 

The NY Fed Economic Education team creates accessible and engaging resources and programs to enhance economic literacy, highlight economic and racial inequalities, and promote awareness of the Federal Reserve System.  

Whether you teach Social Studies, History, English, or different grade levels, we have something for you. Visit us to learn more! 

The NY Early Childhood Professional Development Institute Career Center  

Career Center staff will be available to conference participants. Whether you are seeking an entry level credential or a Ph.D., the early childhood career center team can support your career pathway journey. 

Early Childhood Career Center provides career and academic supports including advisement, career pathway discussions, scholarships, leadership mentorship and much more.  

The Career Center supports all those entering or who currently work in early childhood with their career mobility including leaders, researchers, stakeholders, classroom and auxiliary staff. 

3.

      

  4. Dr. Jamaal C. Boyce

A veteran high school Social Studies teacher with over 20 years of experience. He has taught a variety of different classes that have included a diverse range of students. He is the creator of a brand new critical thinking course and curriculum titled "The Black Experience in America", which combines Black history and Black experiences with critical thinking. He is also the founder of The Community Outreach Investment Network (C.O.I.N.), where he introduces and teaches members of various communities about the vast world of investing. He is also the author of the book "Teenage Perspectives On The Black Experience In America," and he is currently the Director of Education for the African American Educational Cultural Festival(AAECF). Jamaal is also the recipient of the "Exceptional Educator Award," presented by the Multicultural Solidarity Long Island, Inc Organization for 2023.

Dr. Boyce will feature his book: Teenage Perspectives On The Black Experience In America explores the minds of the typical teenage high school student in the United States regarding many topics that are not usually discussed with teenagers. 

                                         POSTER SESSIONS & SOCIAL

Multipurpose Rooms (MPR), Student Union
2:00 pm - 3:00 pm

CLOSING REMARKS

Dean Diana Sukhram - Summer Institute Learning Conference - Call to Action and Next Steps!

Multipurpose Rooms (MPR), Student Union