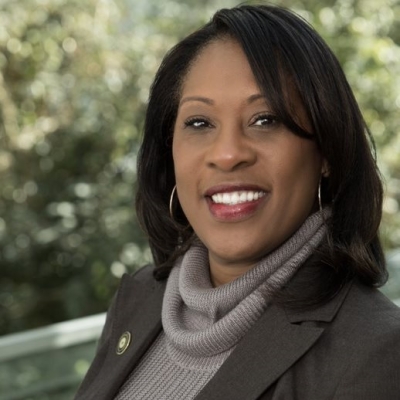 Position/Role
Dean of the School of Education
Professor
Building
New Academic Building
Degrees
Ph.D. in Special Education, University of Illinois at Urbana-Champaign
M. Ed. in Special Education, with Honors, Slippery Rock University, Slippery Rock, PA
B.A. in English Education, with Honors, University College of Belize, Belize City, CA,
Research Interests
Reading Strategies for Students with Learning Disabilities
Special Education in International Settings
Teacher Preparation and Collaboration
Publications
Pilgrim, H., Sukhram, D. P., Johnson, L. (2020). Coronavirus: Can we afford push, pause, and wait. Guardian Newspaper, Belize, Volume 81. 
Foxworth, L., Hashey, A., & Sukhram, D. P. (2019). Essay writing in the digital age: An investigation of digital writing proficiency among students with and without LD. Reading & Writing Quarterly, 35 (5), 445-457.
Sukhram, D., & Monda-Amaya, L. (2017). The Effects of Oral Repeated Reading with and without Corrective Feedback on Middle-School Struggling Readers. British Journal of Special Education, 44 (1), 95-111.
Sukhram, D., & Hsu, A. (2012). Developing Reading Partnerships between Parents and Children: A Reflection on the Reading Together Program. Early Childhood Education Journal, 40 (2), 115-121.
Sukhram, D., & Monda-Amaya, L., & Enriquez, E. (2011). Historical overview of special education in Belize. Journal of International Special Needs Education, 14 (2), 76- 87.
Anker, L., & Feder-Marcus, M. (2010). First-Year Reader. The Ethics of Engagement: Educating Leaders for a Just World. Copley: United States. I have contributed to the revision of this book by working on the following three sections:  

The ethics of engagement: A liberal education, critical thought, and lifelong learning (section IV pg. 319-322).  
John D. Maguire (1932-) an introduction to What Old Westbury is Really About (pg. 325).  
Elizabeth Kamarck Minnich an introduction to Teaching Thinking Moral and Political Considerations (pg. 388). 

Mason, L., Snyder, K., Sukhram, D., & Kedem, Y. (2006). TWA and PLANS for expository reading and writing: Effects for nine fourth-grade students. Exceptional Children, 73, 69-89.
Bhagwanji, Y., Gonzalez, J., Delvin, P., Delvin, S., Jones, D., & Motz, M. (Spring/Summer 2005). An international in-service education prototype in special education: Outcomes and lessons. Florida Journal of Teacher Education, 8, 33-44.