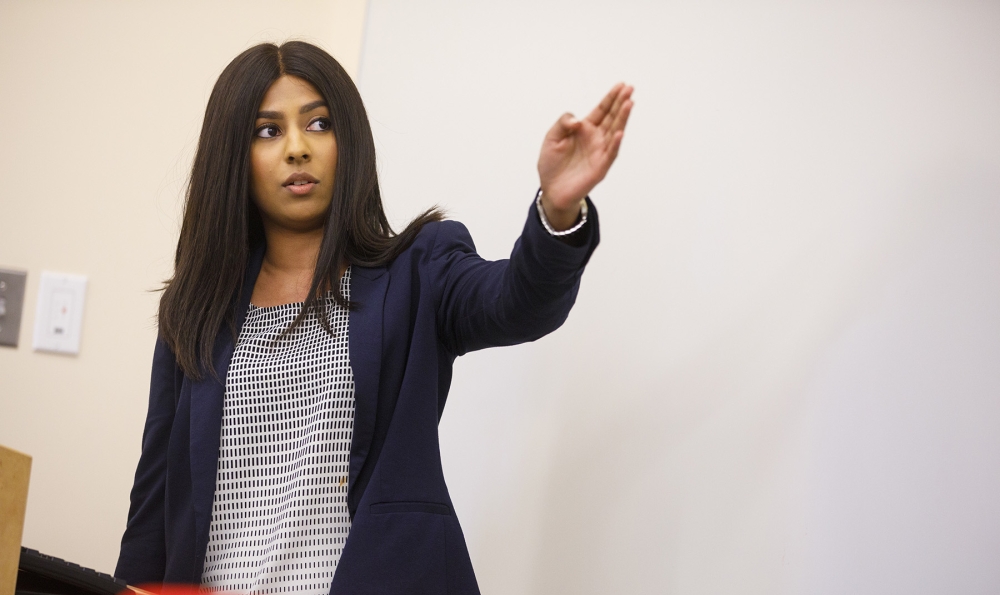 What is the Career Closet? 
Job interviews, career fairs and networking events are all about presentation. Career Closet is here to help you put your best foot forward and nail that first impression by providing FREE professional attire once per semester. 
How does it work?
Once per semester you can come pick out a full professional outfit. 
The outfit is yours to keep! 
Career Closet FAQ's
What is the Career Closet? 
The Career Closet is here to make sure students have access to FREE professional clothes and outfits that they may otherwise not be able to get. Students and alumni can shop the closet to select one professional outfit to keep per semester for interviews or work. These lightly used clothes have been donated through the generosity of Old Westbury staff, students, faculty, and community members.  
Job interviews, Career fairs and networking events are all about presentation – how you present yourself, your skills, your talents. You must bring your A-game. CPD's Career Closet is here to help you put your best foot forward and nail that first impression by making sure you have the appropriate professional attire for your interview or other professional business meetings.  
Disclaimer: Items and sizes available vary due to donations and student usage. If we don't have what you're looking for, come back in a few weeks! 
Can I try on clothing before taking it?  
Unfortunately, due to COVID-19, we are not allowing students to try on the clothing beforehand. However, students are more than welcome to return clothing that doesn't fit them! 
Does the Career Closet carry clothing in my size? 
The career closet strives to be size inclusive and offers a variety of clothing in a range of sizes. If, by chance, we don't have something in your size, please let us know so we can expand our offerings! 
How do I make a donation to the Career Closet?
The CPD Career Closet at SUNY Old Westbury accepts donations of clean, stylish, interview and business appropriate clothing from students, staff, faculty, and the community. Guidelines for donations can be found below. Items may be dropped off at the Office of Career Planning & Development (Campus Center H211) during open hours of operation or at the Career Closet (Student Union 301) by appointment.  
Items we are seeking:
Suits/Trousers/Skirts

Suit skirts or dress pants 
Sport coats and blazers 
No rips, tears, or stains 
Knee length or lower for skirts 
No buttons missing 
No loud or garish prints 
Suits/Trousers/Skirts 
Blouses/Tops/Shirts

Preferably white or solid colors 
No revealing necklines 
No garish colors or prints 
Sleeves or sleeveless (to wear under a suit or blazer) 
No perspiration stains 
Button-down collared shirt for men  
Cardigans 
Shoes (New or Gently Worn) 

Solid color pumps 
Sensible heels (no stilettos or oversized platforms) 
Closed toe and heel 
Flats with soles 
Men's dress shoes in black or brown 
Accessories 

Ties 
Jewelry 
Pocket books, handbags, messenger bags 
Hangers
**While we appreciate your support, please note that the students look best in traditional – not outdated – styles.
A Guide on How to Dress for Your Next Job Interview
Business Professional: Job Interviewing Attire  
Clothes Should Be: 
A suit jacket and matching pants or skirt 

Solid, dark, or neutral colors 

Light colors can be worn underneath 
NO stripes or bright prints/colors 
Shoes Should Be: 
Closed-toe heels or dress shoes 
Bring Essentials Only: 
Cellphones should be turned off and kept away along with your other personal items. 
Carry a portfolio, professional bag, or a simple purse to store these items. 
Business Casual: Daily Work Attire 
Clothes Should Be: 
Dresses and Skirts (These should be knee length when standing and thighs covered while seated)

Blazers and Cardigans 

Ties optional 

No jeans, shorts, sundresses, or athletic wear 
Shoes Should Be: 
Flats, boots, closed-toe shoes, or comfortable shoes for walking in.  
General Recommendations: It's All About the First Impression 
Clothes Should Be: 
Tailored 

In good condition 

Wrinkle and lint free 
Your shoes should be neat and clean dress shoes. 

Belts should match the color of your shoes and clothes.  
Your hair should be well groomed, and your nails and makeup should be natural. 

Wear moderate jewelry and mild fragrance.  

Make sure your piercings and tattoos align to the company culture or standards.