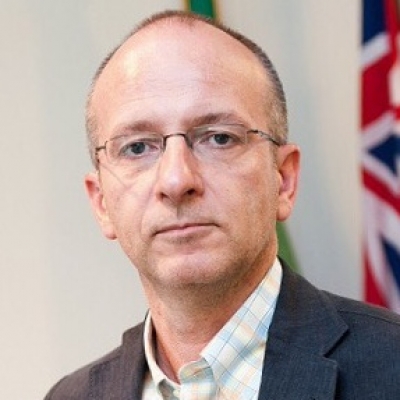 Position/Role
Chair
Associate Professor
Building
New Academic Building
Courses Taught
Undergraduate: Model United Nations; International Relations; Political Economy of the Third World; International Political Economy; The Global South; Ethnopolitics in the World; Introduction to US Politics; International Security and Conflict; New Dimensions of Human Security; Religion, Law and War; Human Rights, Law and Policy; Global Governance; Research Project; Introduction to Comparative Politics; Human Rights in Comparative Perspective.

Graduate (M.A.): European Union: Development and Dynamics; European Union: External Affairs; Politics at the UN: Relevance and Reform; International Organizations; Peacemaking and Peacekeeping; Causes of War; Conflict Prevention; Art and Science of International Negotiation; Theories of International Relations; US Foreign Policy; American Grand Strategy; Seminar in Foreign Policy Analysis; Statecraft: Designing Foreign Policy; Comparative Foreign Policy; Politics of Cultural and Ethnic Pluralism; Masters Research Project.
Degrees
2005 Ph.D. in Political Science, City University of New York - The Graduate Center
2001 M.Phil. in Political Science, City University of New York - The Graduate Center
1995 M.A. in International Relations, City University of New York - City College
1993 B.A. in International Studies, City University of New York - City College
Research Interests
International Politics (Human Rights, International Organizations, Theories of International Relations, Foreign Policy Strategy)
Comparative Politics (Nations and Nationalism, Methods and Concepts, Modernizing Nations)
Publications
Articles in Refereed Journals
"Serbian National Identity: Looking Beyond the Modernization Paradigm", Serbian Science Today, Vol.1, No.1, 2016. pp. 18-29.
"Sjedinjene Americke Drzave i problem Kosova i Metohije" [USA and the Kosovo Problem], Medjunarodni Problemi, Vol. LXII, No. 3, 2010, pp. 531-563.
"Ilija Garasanin: Nacertanije and Nationalism", The Historical Review / Le Revue Historique, Vol. III, No. 1, 2006, pp. 137-173.
Books
Three Roads to Modernity: Serbian Nationalism and National Identity, Global Scholarly Publications, New York, NY, 2019.
Book Chapters
"Ko smo to 'mi'?" [Who Are "We"?], in Milos Petrovic (ed.), Dva veka nase politicke i kulturne istorije, 1804-2004 [Two Centuries of Our Political and Cultural History, 1804-2004], Krusevac: Krusevacka filozofsko-knjizevna skola, 2004, pp. 183-195.
"Serbia and Montenegro," in Lawyers Committee for Human Rights, Critique: Review of the U.S. Department of State's Country Reports on Human Rights Practices for 1994, New York: Lawyers Committee for Human Rights, 1995, pp. 213-222.
Edited Books
New States, Old Problems, and Innovative Solutions: Bosnia-Herzegovina and the Federal Republic of Yugoslavia, Monograph Series on Rebuilding Fractured Communities, New York: United Nations Development Programme, 2001.
Book Reviews and Afterwords
Afterword to Milan Jazbec, Security and Diplomacy in the Western Balkans, Ljubljana: International Institute for Middle East and Balkan Studies, 2007, pp. 189-195.
"Communist Party of Poland," review of Gabriel Simoncini, Communist Party of Poland, 1918-1929, Nationalities Papers No. 2 (1996), pp. 333-35.
Newspaper Articles
Over twenty opinion pieces on domestic and international politics for the Belgrade-daily Politika