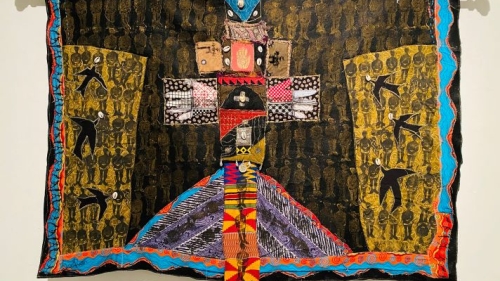 Location
Amelie A. Wallace Gallery, Campus Center
The Amelie A. Wallace Gallery at SUNY Old Westbury presents "Necessary Memories," a solo show by celebrated African-American woman artist Janet Taylor Pickett that explores Blackness through painting, works on paper, sculpture, and quilting. This exhibition is collaboratively curated by Dr. Jennifer Baahng, a leading scholar on Janet Taylor Pickett, and Dr. Hyewon Yi, the Director of Wallace Gallery. Necessary Memories features works from the 1970s to the present, including several that have never been shown to the public before.
The exhibition commemorates the inauguration of the Black Studies Center and the soon-to-be accredited Black Studies major at SUNY Old Westbury, an initiative representative of the College's strong social justice mission and racial diversity. The Black Studies Center is sponsoring the exhibition and public programs. In addition to this near survey of Taylor Pickett's oeuvre at the Wallace Gallery, her most recent works will be on display at the Oceanside Museum of Art in California in May 2023.  
Public Programs
The opening reception for Janet Taylor Pickett: Necessary Memories is scheduled for Wednesday, March 15, 4:00 –7:00 p.m.
An Artist Talk and Panel Discussion will be held in the Gallery on Tuesday, March 28, 1:00 p.m – 2:30 p.m. Gallery Director Hyewon Yi will moderate panelists Janet Taylor Pickett, Dr. Jermaine Archer of the Department of American Studies and Director of Black Studies Center, and Dr. Danielle Lee of the English Department and faculty member of Black Studies Center.  
An additional Reception and Exhibition Walkthrough with students is scheduled for April 12, 1:00 – 2:30 p.m.
During the week of Dr. Timothy Sams's inauguration as the 6th President of SUNY Old Westbury, the Gallery will offer thirty-minute student-docent-led exhibition tours. Visitors may join a tour on April 10 through April 13 at 2:40 p.m. 
Gallery Hours  
Mondays, Fridays, Saturdays: 12 p.m. – 5 p.m., Tuesdays, 10 a.m. – 6 p.m., Wednesdays, 12 p.m. – 8 p.m., Thursdays, 12 p.m. – 7 p.m. 
Location
Campus Center, Main Level  
SUNY Old Westbury  
Route 107, Old Westbury, NY 11568  
Directions  
Long Island Expressway to exit 41N; 107N to the main gate of SUNY Old Westbury; turn left and follow signs to Campus Center; go downstairs to Gallery on the main level.  See the "Visiting Old Westbury" page of this website for further directions.
Contact 
Hyewon Yi, Ph.D.
Director, Amelie A. Wallace Gallery 
Phone: 516-876-2709/3056  
Email: yih@oldwestbury.edu.