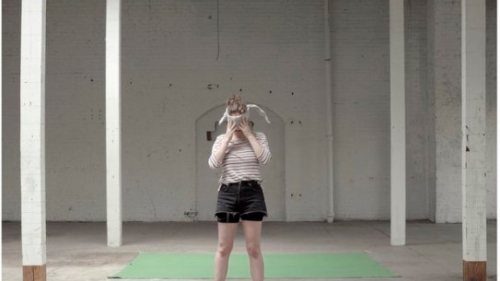 Location
Amelie A. Wallace Gallery, Campus Center
Tamara Rosenblum (b.1982), a video artist based in New York and Paris, presents the solo show Historias Paralelas (Parallel Stories), a multi-channel installation that compares the work of three women: the artist, her sister, Sofia, and their mother, Sonia. Rosenblum's sister was the primary caregiver to her two young children for a time; Rosenblum's mother is Rosenblum's father's primary caregiver.
Exhibition: February 2 – March 9, 2023
Opening Reception: Thursday, February 2, 2023, 4:00 – 7:00 pm
Performance Program: February 2, 4:30 – 5:00 pm
Closing Event: Wednesday, March 1, 1:00 – 2:00 pm www.amelieawallacegallery.org.
The videos contrast their care work with Rosenblum's work as an artist. In 1987, Rosenblum's father, Gregorio Rosenblum, a Chilean stage actor, theater director, and retired professor of theater at SUNY Purchase, produced a radio adaptation of Argentinian playwright Osvaldo Dragún (1929–1999)'s 1957 play The Story of The Man Who Turned into a Dog. Rosenblum's father voiced the man/dog, while her mother, Sonia Rosenblum, voiced the woman/wife. The man takes the job of a guard dog, eventually turning into a dog. The woman becomes pregnant and is terrified that her baby will be a monster. The play failed to address the exploitation of "women's work," both in and outside the home, as Gregorio's generation of Latinx leftists shared Dragún's blind spots. Sonia did all the housework, looked after Rosenblum and her sister, and worked fulltime outside the home. The three-room installation places the viewer inside the physical, emotional, and temporal spaces occupied by Rosenblum, her mother, and her sister. Rosenblum pairs scenes from her parent's house with scenes from her sister's house. Sonia and Gregorio are presented on one channel, while Sofia and her children appear on another. Rosenblum's mother and sister move back and forth between rooms. The children grab their mother's hair. Rosenblum's father screams at her mother while she kisses and placates him. In the liminal space between life and whatever comes before and after life, these women play, feed, and fight on a continuous loop. The exhibition asks, "Can the kind of care work these two women perform fit into a wage economy model? And if care work is politically invisible, then how can societies support it?" Mimicking the structure of a three-act play, Room Three shows a single projection in which Rosenblum appears as herself in her studio engaging in various artistic experiments—roller skating blindfolded in an homage to Chaplin's Modern Times, playing hide-and-seek with a vacant elevator, strumming the internal mechanism of a piano. The video provides an anchor for the show, asking, "Is making art a kind of care work?"
The exhibition and performance program are sponsored by the Performing Arts Initiative of SUNY Old Westbury, and are co-hosted by El Conuco, the Latinx and Ibero-American Center at SUNY Old Westbury.
Gallery Hours: Mondays – Fridays: 12 pm – 5 pm, and by appointment.
Location:  Campus Center, Main Level SUNY College at Old Westbury Route 107, Old Westbury, NY 11568
Directions: Long Island Expressway to exit 41N; 107N to the main gate of SUNY Old Westbury; turn left and follow signs to Campus Center; go downstairs to Gallery on the main level. www.oldwestbury.edu.
Contact Info: Hyewon Yi, Ph.D., gallery director and curator
                             516-876-2709/3056
                             yih@oldwestbury.edu.