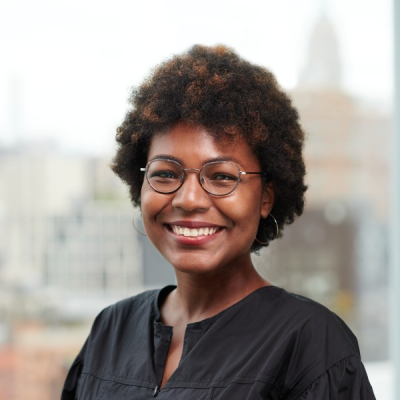 Position/Role
Director of Social Impact at the Whitney Museum of American Art
Dyeemah Simmons (she/her) is an educator and arts worker focused on collaborating with artists to develop spaces for marginalized communities to create, commune, and gain access to critical resources. She is currently the Director of Social Impact at the Whitney where she is responsible for aligning the divisions of school, youth, family, access and community programs to promote intersectional and accessible programming.
Before the Whitney, she received an art teaching fellowship at Anatolia College in Thessaloniki, Greece where she worked with grades K-12. She has also interned in the Studio Museum's Education department and worked as a student docent at the Allen Memorial Art Museum in Oberlin, Ohio. She holds an M.A. in Art Education from CUNY City College and a B.A. in Studio Art and English from Oberlin College.
Dyeemah is a Co-Coordinator of the NYCMER Book Club and a member of The Door's Advisory Committee. She is also an Adjunct Lecturer at CUNY City College where she teaches in the Art Education Department. She is a life-long Harlemite.