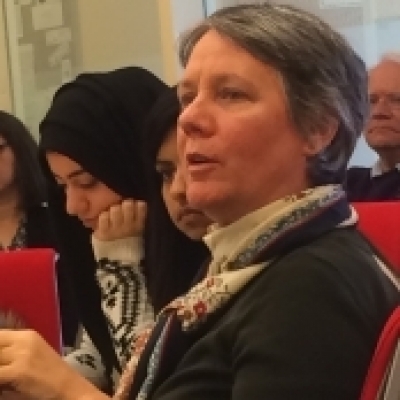 Position/Role
Professor
Director, M.A. in Liberal Studies Graduate Program
Building
New Academic Building
Courses Taught
Topics in U.S History: Struggles for Justice
Photography and American Culture
Film Ideas and Aesthetics: The 1930s
History of U.S. Women
History of the Women's Movement
Narrative and History
Media Studies
Degrees
B.A. Carleton College, Northfield, Minnesota
M.A. City College, City University of New York, New York, New York
Ph.D. Graduate Center, City University of New York
Research Interests
Twentieth Century U.S. History
Cultural History
Social Movements
Visual Culture and the History of Photography
Consumer Culture
Media History
Publications
"Imagining Racial Equality: Local 65's Union Photographers, Postwar Civil Rights, and the Power of the Real, 1940–1955." Radical History Review (2018) 2018 (132): 96-125.
Dorothea Lange, Documentary Photography, and the Twentieth Century: Reinventing Self and Nation. New York: Routledge Press, 2019.
Eyes on Labor: News Photography and America's Working Class, New York: Oxford University Press, 2012.
"Jon Lewis: Photographs of the California Grape Strike," review, Southern California Quarterly, Winter 2014.
"Re-framing Chicago's Memorial Day Massacre, May, 1937," American Studies, March 2008.
"Picturing the Poor: Jacob Riis's Reform Photography, review of " Reviews in American History, December 2008.
"An Impresario for the Working Class, review of Moe Foner's Not for Bread Alone," New Labor Forum, Summer 2003.
Office Hours
Tuesdays & Thursdays: 1:00pm-2:30pm

Also by appointment