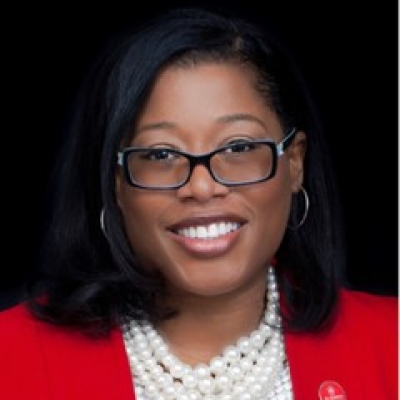 Position/Role
Associate Professor for Educational Technology in the Department of Curriculum and Instruction at St. John's University
Dr. Aliya Holmes is Long Island native who is committed to positively impacting education by improving teacher education, student learning, and access to viable technology tools. This Brentwood High School graduate acquired a B.S. in Computer Science and Applied Mathematics, a M.S. in Curriculum Design and Instructional Technology, and a Ph.D. in Education specializing in Curriculum Design and Instructional Technology, all from the University at Albany, State University of New York. Dr. Holmes joined St. John's University in 2004 as an Assistant Professor for Educational Technology and, in 2010, was promoted to Associate Professor with tenure in the Department of Curriculum and Instruction. During this time, she worked closely with aspiring and in-service teachers to consider innovative strategies and tools to incorporate in the classroom experience. At the graduate level, Dr. Holmes has served as an academic advisor and dissertation committee member for many students in the School of Education. Dr. Holmes facilitated several support efforts within St. John's and New York City DOE schools through the Brooklyn Bridge Program, Achieve Now Academy, PEAK program, and the ePortfolio Project. She has published several articles on teacher professional development, online learning, and technology integration, and received more than $1Million in grants and contracts over the last 20 years. As a scholar and public servant, Dr. Holmes chaperoned groups of students on mission trips to New Orleans' 9th Ward after Hurricane Katrina and to South Africa to assist women and children orphaned due to their AIDS and HIV. She has mentored children in NYC who were placed on probation for committing non-violent crimes and supported relief efforts here in New York after Super-Storm Sandy. Dr. Holmes recognized the importance of exposing children to college life and directed the College Access for All Program at St. John's for two years to encourage NYC middle school students to consider the possibility of college in their future.
Within the University, Dr. Holmes has been very active as she served as a member and former Co-Chair of the University Assessment Committee and University Core Curriculum Committee member for approximately 10 years. In June 2020, Dr. Holmes became the Associate Dean of Graduate Studies and Faculty Development of the School of Education at St. John's University where she supported graduate student programming and faculty during the COVID-19 pandemic. She supervised activities across three campuses and supported those seeking master's degrees, Advance Certificates and Doctorate degrees in Education. Although an unusual academic year, Dr. Holmes shared, "I believe, as educational leaders of faith, we are equipped to effectively impact and transform lives…even in a pandemic." In May 2021, Dr. Holmes was appointed to the position of Interim Dean of the School of Education at St. John's University. As Interim Dean, Dr. Holmes bolstered the School of Education's commitment to the mission to educate, lead, counsel and inspire in any environment. Under her leadership the School of Education's U.S. News and World Report rankings improved in two categories, Graduate Education and Online master's degrees in education, making the top 100 list in both categories. Dr. Holmes returned to the classroom in June 2022 and continues to support students and the division post-pandemic as one of the AAQEP Accreditation Faculty Leaders.
Outside of St. John's University, Dr. Holmes is a member and past president of the Suffolk County Alumnae Chapter of Delta Sigma Theta Sorority, Inc. and a National Committee Member of Delta's Distinguished Professor Endowed Chair Committee. Overall, Dr. Holmes remains committed to excellence, scholarship, and providing opportunities for young scholars to engage in rich experiences that transform lives.