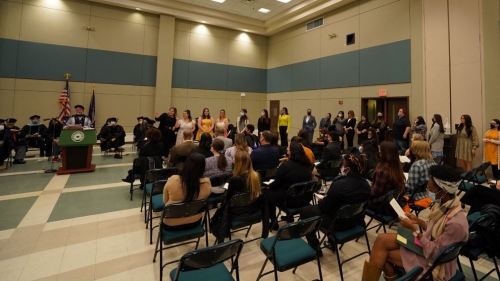 Location
Student Union, Multipurpose Rooms
At the Honors Convocation, SUNY Old Westbury celebrates the academic and leadership achievements of undergraduate students who have excelled in their coursework, extracurricular, and co-curricular efforts during their time on campus.  This event is one of the College's most important academic traditions. 
Along with awards presented by each academic department, the program includes the presentation of the President's Medal, the highest honor a student of SUNY Old Westbury can earn.  Students receiving awards during the program will be contacted by the academic department that is home to their major in early April. 
The students being honored have excelled in the classroom and applied the knowledge they learned in their clinical placements, internships, co-op experiences, volunteer projects and more. Moreover, these academically talented and socially conscious students exemplify the mission of SUNY Old Westbury. 
Our entire campus community thanks our students' parents, spouses, family members and friends who have supported them toward achieving their goals and aspirations. Additionally, we extend appreciation to the staff and faculty for their dedication and service to our students.
And to the honorees, congratulations. We know you are and will continue to be leaders in your fields of study and in your communities.
All classes are cancelled from 2 p.m. – 6 p.m. for this occasion.
Contact
Office of Academic Affairs
Phone: (516) 876-3135