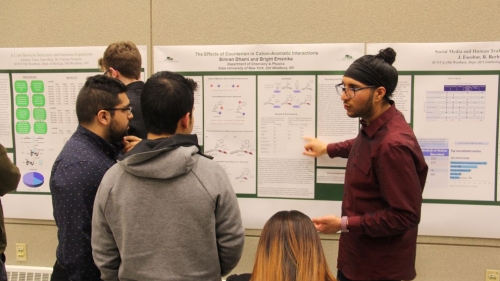 Location
Student Union, Multipurpose Rooms
The 2023 SUNY Old Westbury Student Research Day will celebrate students' academic and creative accomplishments and provides students the opportunity to share their work with the campus community.   
In addition to showcasing the breadth and depth of student research and creativity, this year's event will feature a keynote by Max Kenner, founder and executive director of the Bard Prison Initiative.
The theme for Student Research Day is "Rights & Responsibilities. What do rights and responsibilities mean to you?​"  
To participate in this annual tradition, students must be sponsored by a faculty member, and all abstracts are faculty-approved before submission. In their presentations, students use data, language, research, artwork, or other media to explore the theme.   
PANEL PRESENTATIONS   
Presenters will deliver a 10-minute formal presentation, followed by a 5-minute Q&A. Presenters will have access to a podium, microphone, and projector.   
Please indicate your session availability on the application. You will be expected to arrive at least 5 minutes before your session time and remain for the entire session you choose.   
POSTER/ART/MEDIA PRESENTATIONS
The poster session and art/media exhibition will be held during common hour from 2:40pm – 3:40pm.   
You are expected to stay with your poster or art/media during the entire common hour session.   
Art displays will be coordinated by the Visual Arts department.   
Completed posters are due by Monday, April 10th and will be printed on-campus using the following template Poster Template.   
About the Keynote Speaker 
Max Kenner, Founder & Executive Director, Bard Prison Institute 
Max Kenner is founder and executive director of the Bard Prison Initiative (BPI) which enrolls incarcerated women and men in academic programs that culminate in degrees from Bard College.
A leading advocate for the restoration of college-in-prison, Kenner frequently speaks publicly on issues of education and criminal justice. He is also co-founder of the Consortium for the Liberal Arts in Prison, which supports colleges and universities in establishing college-in-prison projects nationwide, and also of the Bard Microcollege, which establishes rigorous, tuition-free college opportunity within urban areas in partnership with community-based institutions.
At Bard College, Kenner serves as Vice President for Institutional Initiatives and Advisor to the President on Public Policy & College Affairs. He has been a fellow-in-residence at the Charles Warren Center for Studies in American History at Harvard University and has served on Governor Andrew Cuomo's New York State Council on Community Re-Entry and Reintegration since its inception. He is the recipient of many awards including the John F. Kennedy Presidential Library's New Frontier Award and the Smithsonian American Ingenuity Award in Education. Under his stewardship, BPI has figured prominently in the media, including but not limited to features on 60 Minutes, PBS News Hour, the New York Times Magazine, and the Washington Post. Most recently, BPI and its students were subjects of the acclaimed documentary film College Behind Bars, directed by Lynn Novick, produced by Sarah Botstein and executive produced by Ken Burns. College Behind Bars aired nationally on PBS in November 2019.
Questions?
Contact School of Arts and Sciences Assistant Dean Betty Berbari.