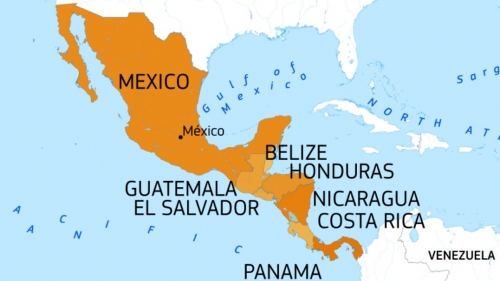 Location
NAB 1100 and The Amelie Wallace Gallery

The news from Central America has been painful and difficult for some time now. Economic and political tensions have led to institutional breakdowns, a humanitarian crisis and dislocation for many individuals and families. Their plight, rather than evoking compassion and understanding, has been used by many political leaders to generate fear, divisiveness while exploiting political leverage. This symposium seeks to investigate the situation and shine a light on the struggle of so many individuals and families, peer into what has gone wrong yesterday and today, and explore the strength of those who against great odds continue to seek a better life for their families.
Created in collaboration between the College's Hispanic Latino Cultural Center, the Modern Languages and Politics, Economics and Law departments and Amelie A. Wallace Gallery, the two-day series of sessions will include the participation of world-renowned artists and social activists American documentary photographer, Susan Meiselas, and Guatemalan human rights filmmaker, Luis Argueta. 
Further plans for the program in are in development. For further details, please contact either the Hispanic/Latino Cultural Center, the Modern Languages Department, or the Politics Economics and Law Department.