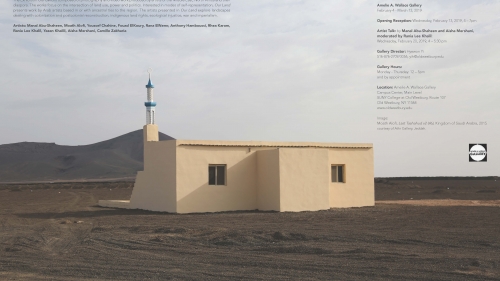 Location
AMelie A. Wallace Gallery, Campus Center
Opening Reception: Wednesday, February 13, 2019, 4:00 – 7:00 pm
Artist Talks by Manal Abu-Shaheen and Aisha Mershani, moderated by Rania Lee Khalil: Wednesday, February 20, 2019, 4:00 – 5:30 pm
The
Amelie A. Wallace Gallery
is pleased to announce the opening of "Our Land," a new exhibition comprising photography and video by artists from the Middle East, North Africa, and their diaspora. Curated by Anthony Hamboussi, photographer and adjunct professor of Visual Arts at SUNY College at Old Westbury, the exhibition explores intersections of land, power, and politics to question dominant historical narratives and current Western perceptions of the MENA region. Interested in modes of self-representation, "Our Land" presents the work of Arab artists based in or having ancestral ties to the region, to consider landscapes of colonization and postcolonial reconstruction, indigenous land rights, ecological injustice, and war.
Interrogating the darker histories of landscape photography and "development" in non-Western countries, the exhibition questions the neutrality of scholarly and scientific landscape image production, and the roles of said images and development in imperialism and domination of the region.
The works in "Our Land" were selected for the ways in which they challenge simplistic representations of cultural identity. In turn, the exhibition compels us to reconsider our relationship to the land and its exploitation under advanced capitalism and environmental crisis.
Participating Artists: Manal Abu-Shaheen, Moath Alofi, Youssef Chahine, Fouad ElKoury, Rana ElNemr, Anthony Hamboussi, Rhea Karam, Rania Lee Khalil, Yazan Khalili, Aisha Mershani, Camille Zakharia.
For more information, contact:
Curator: 

Anthony Hamboussi
(917) 674-6687
Gallery Director: Hyewon Yi
(516) 876 –2709
Please contact the Curator or Gallery Director in advance if you plan to attend the Opening, the Artist Talks, or to view the exhibition.
Gallery Hours:
Mondays – Thursdays,
12 – 5PM, and by appointment
Location:
Campus Center, Main Level
SUNY College at Old Westbury
Route 107, Old Westbury, NY 11568
Directions:
Long Island Expressway to exit 41N; 107N to the main gate of SUNY College at Old Westbury; turn left and follow the signs to Campus Center; go downstairs to Gallery on the main level.