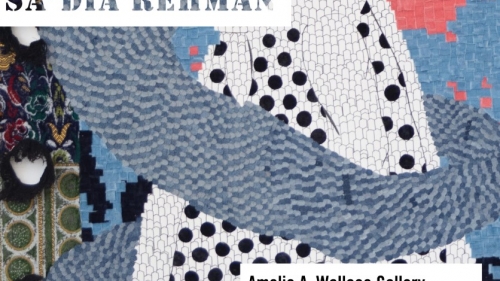 Location
AMelie A. Wallace Gallery, Campus Center
Opening Reception: September 11, 4:00 – 7:00 pm
Artist Talk: September 11, 5:30 – 6:30 pm 
The Amelie A. Wallace Gallery is pleased to announce a solo exhibition of works by Sa'dia Rehman, a Queens-born artist who lives and works in New York City and Columbus, Ohio. Rehman employs multiple media that include works on paper, assemblages, and wall drawings to grapple with the constraints and possibilities of self and collective making as well as issues of representation, war, power, race, and gender centered on the family unit. She draws upon aspects of her Pakistani Muslim queer heritage as it has been shaped by post-Gulf War New Jersey, post-9/11 New York City, and the Trump-era Midwest. The title of the exhibition, The Here and the Hereafter, reflects the artist's broad interpretation of Muslim thought about the connected lives we live on earth and in the afterlife. Rehman enacts the labor of undoing and re-building her alternate world through manual repetition, erasing, cutting, and stenciling.
Rehman's practice employs materials and images commonly found in Pakistani and Muslim domestic spaces. In Even the Persians Are Now Showing Signs of Demanding a Constitutional Government (2019), Islamic prayer mats given to the artist by her relatives are repurposed—either cut out or punctured with holes—and treated as consumer objects appropriated as artistic ready-made. Rehman also creates simulacra of Muslim cultural objects, either by meticulously hand-drawing them or by stenciling parts of industrial objects, resulting in Islamicate patterns on the work's surface. In her small black-and-white drawings, Rehman uses the intricate construct of Persian and Afghani carpets—replete with various motifs drawn from the Islamic art tradition: figurative images, text, and redaction—to create a diaristic work that forms an ascetic practice.
In Bul Bul ka Bacha (Nightingale's Child), A Rhyme (2016), a large work on paper installed in grid format, the text of an Urdu lullaby the artist's mother used to sing is repeatedly traced through a hand-cut stencil using graphite, spray paint, and charcoal. This rubbing and pushing process may be understood as deconstructing and reconstructing a gendered text that refers to a male bird.
The artist's most recent works, which she calls 'wall hangings', incorporate mass media images of immigrant families and individuals targeted by the US administration. Contain (2019) is a large-scale stencil of a printed image of a family embracing as one of its members is about to be deported to their home country. The work is sprayed in somber black in an image that is at once sorrowful and tender.
A public reception will be held on Wednesday, September 11, 2019, from 4:00 to 7:00 pm with a talk by the artist to be held from 5:30 pm to 6:30 pm.
Artist Biography:
Sa'dia Rehman (b. Queens, NY) is a multidisciplinary artist whose work explores how contemporary and historical images—in public and private records—communicate, consolidate, and contest ideas about race, power, and gender. Through drawing, Rehman obsessively pulls apart and puts together "images of consumption"— family photographs, mass media, and art historical images. In addition to her archive, her core materials include hand-cut stencils, photocopies, charcoal, graphite, erasers, spray paint, and ink. 

Rehman has shared her work nationally and internationally at venues such as Twelve Gates Gallery (2019), The Kitchen (2018), Aicon (2018), Alwan for the Arts (2018), Center for Book Arts (2015), Local Projects (2015), Los Angeles Sony Theater (2015), Taubman Museum (2013), Queens Museum (2012), Brooklyn Museum (2010) and Pakistan National Council of the Arts, Islamabad (2006). She was a nominee of the 2017 Joan Mitchell Foundation Painters and Sculptors Grant, a recipient of the Aminah Brenda Lynn Robinson Grant (2018), the Meredith Morabito and Henrietta Mantooth Fellowship (2018) and the Ann Hamilton Travel Grant (2016). She has been awarded residencies at the NARS Foundation (2019), Edward Albee Foundation (2018), Byrdcliffe Woodstock (2018), Vermont Studio Center (2018), Rasquache Residency (2016), ASI/LMCC & Creative Capital (2011) and AIM Bronx Museum (2008). Her work has been featured in the NYTimes, Harper's, Art Papers, and ColorLines. Rahman received her MA from City College, CUNY (2006) and an MFA from Ohio State University (2017). Recently, Rehman was nominated a "Woman to Watch" by the National Museum of Women in the Arts, Washington, DC, where she will exhibit her work in May 2020.
About Amelie A. Wallace Gallery:
Formally dedicated on May 22, 1979, the Gallery is named for the late Amelie Alexanderson Wallace in recognition of her unflagging support of the College and her personal commitment to the arts at Old Westbury. The Gallery exhibits Contemporary art by emerging and mid-career artists, as well as works by faculty and students of the Visual Arts Department. Public programs designed to accompany exhibitions comprise lectures and discussions led by artists and curators, as well as live performances and video presentations.
For more information, contact:
Gallery Director: Hyewon Yi
(516) 876 –2709
(646) 421-5863
Please contact the director in advance if you plan to attend the opening or an event, or to view the exhibition.
Gallery Hours:
Mondays – Thursdays,
12 – 5PM, and by appointment
Location:
Campus Center, Main Level
SUNY College at Old Westbury
Route 107, Old Westbury, NY 11568
Directions:
Long Island Expressway to exit 41N; 107N to the main gate of SUNY College at Old Westbury; turn left and follow the signs to Campus Center; go downstairs to Gallery on the main level.